When we think about the growing old, many thoughts come to mind. But I doubt any of them are that of a woman over 100 years old who is expecting company being found up in a tree outside her house. Or of a man in his early 100's still chopping wood outside his house at 7 in the morning. Well these are real people, who live NEAR each of them interviewed by the men I will introduce. The regions they live in have a cultural lifestyle that has allowed many of the women and men, live over 100 a years frequently. These people, I think we can all say we consider to have had a very long life.
During the search for longevity of life, two men both ironically sharing the name Dan have formed a hypothesis of how to recreate these societies here, so that we might be able to be like this yet in our life time. The application of this change has started already in the United States. It is called the Blue Zone Project which is currently being applied in 4 cities across Iowa, a state well-known now for its problems with obesity. Just last year the Iowa government launched the initiative  to make them one of the healthiest states in the county. I, Flora DeKock, am a resident of one of these first 4 cities.
[youtube]f5x6OZ9WJt8[/youtube]
Now during the initial meeting about the movement for the cultural change, they covered and discussed much of what they found to be common behaviors and traits found in those who live these long lives. Aptly named as the "Power 9" principles, they are truly powerful motivation for your body's physical, mental, emotional, and spiritual well-being in their own ways.
Each of these have a point and a reason. Now obviously for those who have medical or habitual issues with alcohol, will need to opt out of applying this one to their lives, but as that wine is a known for its antioxidants, they will need to be accessed in other safe ways of those facing this issue.
Now when many speak about their reflexive sympathetic dystrophy, chronic pain, invisible illnesses, and the many other plagues we face because of our declining health, most of us may not feel like looking for that long and happy life. Most of us are looking with a short-term, make it through the day, perspective. And to be frank with our battles, who wouldn't.  But I propose to each and every person who reads this, ill or healthy, to consider what this group is suggesting. Not because they are selling something, because they aren't.  But because those who have asked me about my experience with remission and now my second round of RSD, these "Power 9" are almost all of the things I am doing to fight my battle. For example, my weight loss which occurs despite my medications was because I was controlling my calorie intake, very similar to what they suggest. Not for the same reasons as they suggest but their argument is a valid point and works well with mine. Another factor I already applied that allows me to still work, is because I applied the "move naturally" law to my life. Again, not for the same reasons, but still, it works.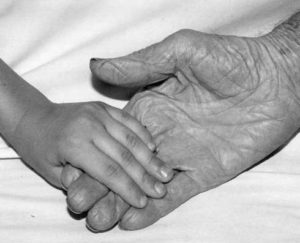 But I know I want a long life. I want a long, long life with my son and any children he might one day have.  And despite what we all suffer, and I know many are far worse than I, I think we can all say we want to see the children we know and love around us grow up. Be them siblings, our own children, our friends kids. We want that happiness around us on those better days.
So here is my recommendation for all of you, sign up for the daily challenge.  This site's registration allows you to use your email or your Facebook. Then they will email you with one objective for the day, and if you prefer they can also text you to remind you to do it a couple of times a day. These are simple and fairly easy (for the most part for all of us) objectives. Today mine is to "Admire a piece of art, either in person, in a book, or online." Once done you get points, then you can comment on it for more points, and then your done for the day. It might seem small, might seem silly, but it's amazing how accomplished you feel each time you do one of these. One could almost say they feel more "alive" when you have done something so constant  Now the other day I had to do "twists" at the waist, but some of us may not be able to do that anymore. On those days, you can take a "breather" as my mother used to say, or you could find an alternative way to approach it and move an alternative body part that does want to work right. The point of the site is to help people keep active: mentally, socially, physically, and emotionally.  So I welcome you all to come join me in my daily challenges to make our lives even just a little better each day. Here's to starting the search for a happy, long life for us all.
If you would like to give me some feed back or respond to this if you want me to invite you to the daily challenge website, enter your information below:
[contact-form][contact-field label='Name' type='name' required='1'/][contact-field label='Email' type='email' required='1'/][contact-field label='Website' type='url'/][contact-field label='Comment' type='textarea' required='1'/][/contact-form]